Have you ever wanted to take a peek at someone's wedding to gain inspiration, get some creative juices flowing, or simple relish in the delight of a couple's union?  Recently, Pez Productions was a part of a Pop-up Wedding here in Calgary and it was a wonderful behind-the-scenes glimpse at a real wedding. That's right, a real wedding with everything from a ceremony to the first dance.  Guests witnessed enduring romance, inspiring design were able to see what some professionals execute best.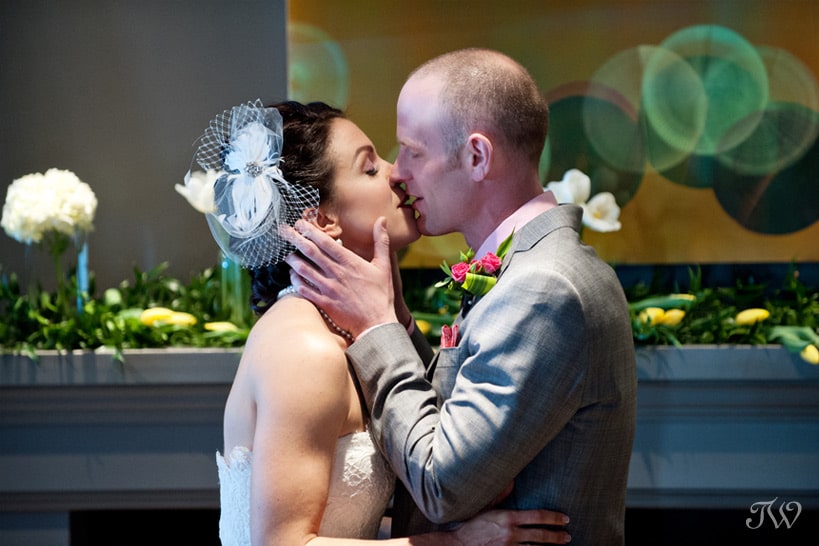 Our couple, Carolyn and Ryan, renewed their vows in the exquisite setting of the Kensington Riverside Inn, with the most unique of guests, Calgary Couples themselves.  With today's brides being accustomed to instant results, there was supreme gratification that came with the addition of reality television.  We gathered with a team of select wedding vendors who had a flair for luxury and help made The Pop-up Wedding authentic and gorgeous.
The Pop-Up Wedding took place on April 13th at Kensington Riverside Inn, a beautifully intimate venue perfect for such a gathering.  Color abounded from the floral arrangements and bouquet by Fleurish Flower Shop to the Kate Spade-inspired programs by Creative Finch. The bride and groom grooved to L-O-V-E by Michael Buble, where the bride changed from her wedding gown to a gorgeous 1950′s vintage reproduction gown from A Vintage Affair, perfect for twirling.  Ed Williams Menswear provided the groom's outfit and the celebration took place on a colorful and intimate dance floor.
All in all, the pop-up wedding was a tremendously unique twist on the traditional and we do hope to take part in many more of them. Looking to create one for you upcoming union? Here were all the wonderful vendors and participants featured in this one;
Pop-up wedding photographs (Event Founder & Lead):  Tara Whittaker
Boutique hotel and wedding venue:  Kensington Riverside Inn
Wedding Planner – Kari Bedford from Knot Planning
Floral Design – Fleurish Flower Shop
Bridal Fashion Boutique – Frocks
Men's Fashion – Ed Williams Menswear
Vintage fashions – A Vintage Affair
Children's fashions – The Hawthorne Tree
Jewelry – EVS Ellinor Stenroos
Patisserie – Yann Haute Patisserie
Hair and make-up artist:  The Art of Beauty by Lyana Gibert
Event Rentals:  Special Event Rentals
A special thanks to Tara Photography for sharing these wonderful photos with us!
To see the complete Pop-Up Wedding, visit the complete story here!